MSI to EXE Setup Creator
Price: $49
MSI to EXE Creator is the best setup creator tool used to create exe (executable files) format file from MSI (windows installer) file format in just a single click. This economical setup maker software wizard support conversion of .NET framework installer files (.msi) into executable setup package (.exe) in efficient manner. EXE setup builder utility easily creates .EXE file format from .MSI file format without changing the original functionality of existing MSI file format.
Easy to use MSI to EXE setup converter facilitates to save converted files at safe location on the desktop/laptop computer. Highly adaptable user friendly professional program generates executable file using MSI setup package to release your software product in standard EXE format. MSI to EXE setup maker is fully capable to maintain functionality and structure of existing .msi files during setup conversion. GUI based software utility is fully understandable by both technical and non technical users.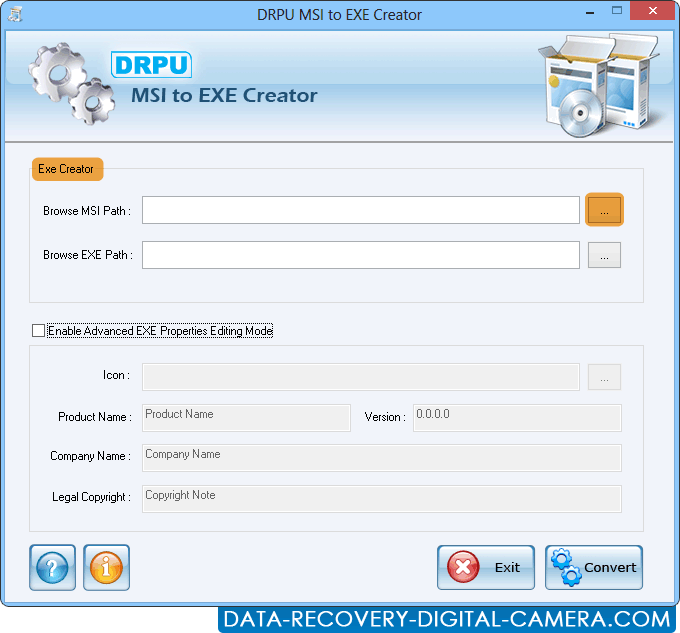 Software Benefits:
Convert Microsoft Visual Studio .NET framework installer files into executable file format.

Create .exe setup files from .msi installer file package.

Convert Microsoft windows installer files (.MSI) into Executable (.EXE) file format without changing the original functionality and structure of .msi created application.

Setup builder tool facilitates with user friendly interface and does not require any specific technical skill to operate it.

MSI to EXE converter tool provides inbuilt support to user.